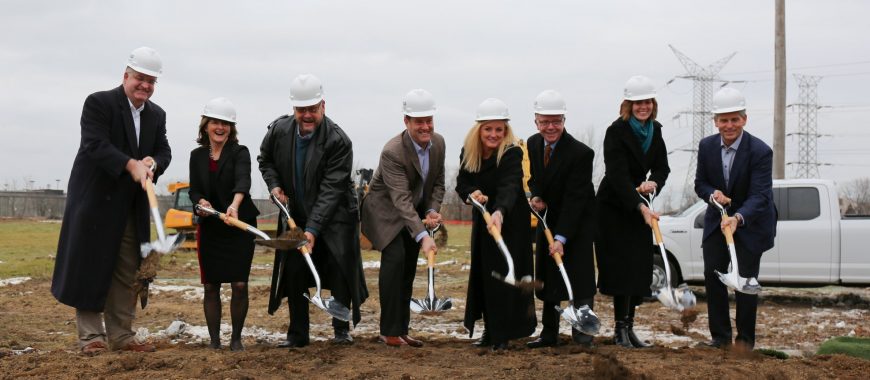 Breaking Ground for the new Transitional Care of Lake County
Following many years of work and partnerships between Lake County, the Winchester House Advisory Board, Transitional Care Management, Innovative Health, and the Village of Mundelein, representatives of the public/private partnership celebrated the official ground-breaking of the highly anticipated new Transitional Care of Lake County. The new care center, to be located at 850 East Route 45, will replace the existing county-owned Winchester House that will relocate and open as a new state-of-the-art healthcare center that is owned and operated by Transitional Care of Lake County.
After 150 years of owning and operating Winchester House, the Lake County Board sought a partner that could help the County facilitate a smooth transition to private ownership and management of the county-owned and operated Winchester House skilled nursing center. Primary goals included:
building upon the strong Winchester House legacy of quality care
maintaining and enhancing services to residents and families
and planning for a new state-of-the-art community for current residents and their families, as well as future people in need of skilled nursing or memory care, to call home.
Innovative Health and Transitional Care Management offered what turned out to be an ideal solution for the County's needs, and, in addition, presented incorporating a model, known as "Transitional Care," that helps people bridge the distance between hospital and home by providing a new and highly specialized, short-term recovery option. Construction for the new center begins this month.
"The new Transitional Care of Lake County will offer new innovation in resident-centered senior care and continue the tradition of providing compassionate, high quality skilled nursing and memory care to current residents of Winchester House and Lake County residents who require services in the years to come," Brad Haber, principal of Innovative Health.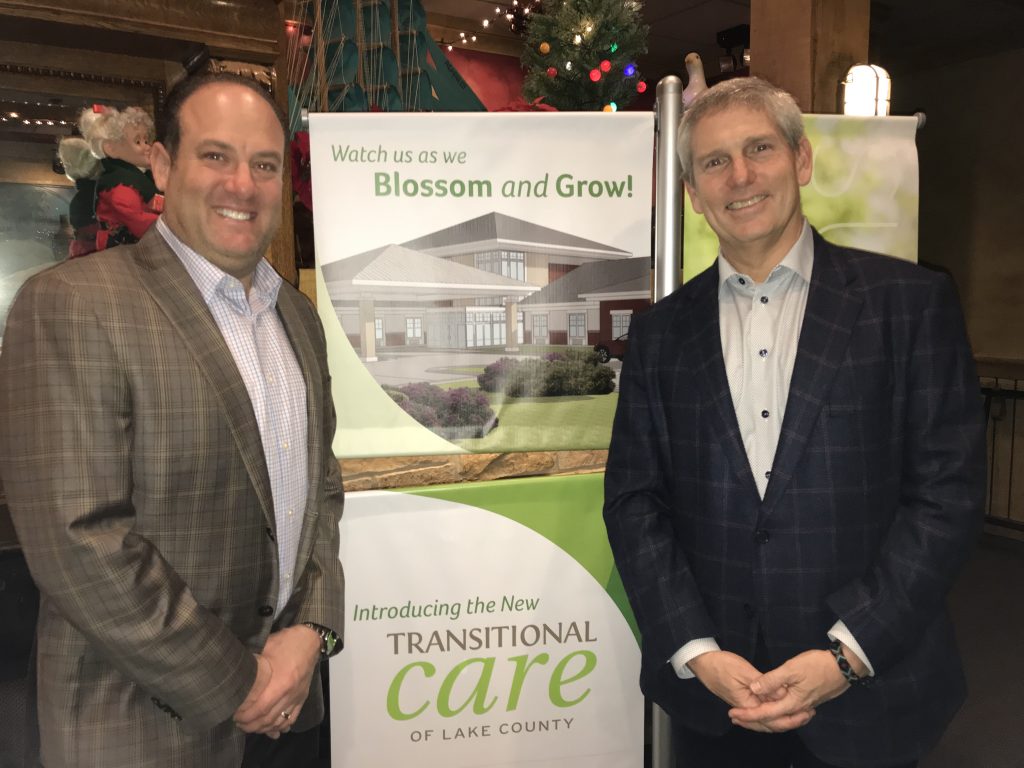 Innovative Health Principals, Brad Haber and Brian Cloch celebrate the ground breaking of the new Transitional Care of Lake County.
Breaking ground for the new Transitional Care of Lake County, a public/private partnership initiated by the Lake County Board in partnership with Innovative Health and Transitional Care Management to best serve area older adults and their families are (from left to right): Mayor Steve Lentz, Village of Mundelein; Julie Mayer, Winchester House Advisory Board Chair; Steve Carlson, Lake County Board Member (District 7); Brad Haber, Principal, Innovative Health; Denise Norman, the President of Transitional Care Management; Michael Knight, Lake County United, Winchester House Advisory Board; Sandy Hart, Lake County Board Chair; Brian Cloch, Principal, Innovative Health, CEO, Transitional Care Management
Tags:
breaking ground
,
mundelein
,
new facility
,
transitional care
,
winchester house